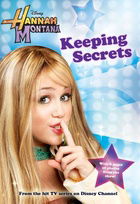 Posted : 10 years, 3 months ago on 25 March 2008 01:31 (A review of
Keeping Secrets (Hannah Montana (Quality))
)
i like reading my own books. this one is my favorite.

0 comments,
Reply to this entry
Posted : 10 years, 3 months ago on 25 March 2008 12:56 (A review of
Stubbs The Zombie in Rebel Without a Pulse
)
thisgame is so fun you get to chop off heads and other stuff that game is fun.

0 comments,
Reply to this entry